First up in my Wood Elf army is the Treekin...
The conversions were simple- old Citadel (or even Marauder!) Treemen, with the addition of some foliage from the Citadel Forest kit. The Treekin on the left is an old conversion which used to be featured in the 5th edition Wood Elf army book- he has Durthu's left arm to give the impression of punching his own hand in a "come and get it" pose. I loved it since I was a kid and had to recreate it.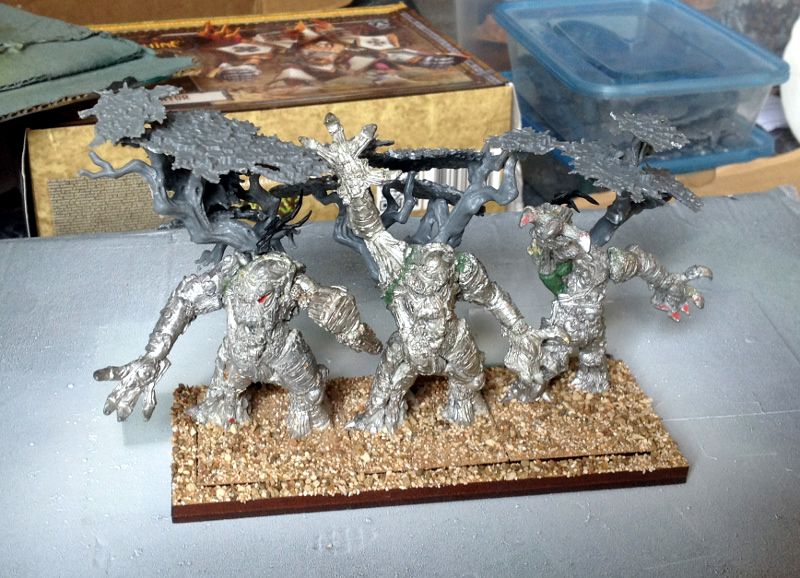 I knew straight away that I wanted to match the old colour schemes- my original Wood Elf army had a Treeman (in fact, it's the one in the centre of the unit, although he was so chipped he wasn't worth keeping, so I stripped him) that my Dad and I painstakingly painted to be as close to the book version as possible, so my paint job attempts to pay homage to that memory! I was really pleased with the result.
You can see the very WIP shot below- the model was effectively basecoated, washed with Agrax, then highlighted simply by adding bone and white into the base colour. I used a wide range of green and brown washes and glazes, over a range of different brown base colours, to give him a varied and interesting but natural look.
In an attempt to make the foliage look as natural as possible, there are two subtly different colours of leaves- one highlighted more with bone and one with white (and a heavier green glaze at the end). The photo below shows them left and right.
The first finished Treekin, in the exact same scheme as I painted him 15 years ago (just with a slightly improved technique!!)
The basing I'm really pleased with. Essentially, it's standard grass tufts plus some varied Heather tufts from eBay. After that, two different layers of green flock were added, dark and light, to give the impression of a lush and deep undergrowth.
Finally, the finished unit. I'm super happy with them overall and they've made a fantastic start to the army to get my enthusiasm pumped!
The rear view, to show the vibrant foliage on the tops of the models.
I hope you enjoyed this post! Please leave me some comments and criticisms, I'd love to know your thoughts. You can also catch me on Twitter to see all my WIP photos, @Jon_Kerr_T4G
Jon