You don't look ready...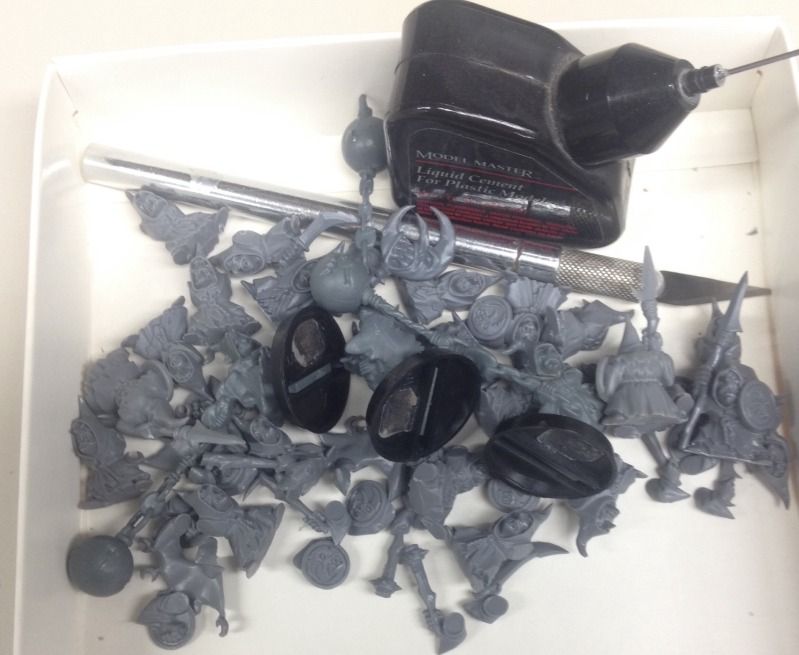 Just some parts in a box here at work..
.
I'm not ready. Northstar is only a few weeks away (23 days), and up until 10 days ago, I had no painted models for this army, and not many models even assembled. The list isn't finalized quite yet, but there's roughly 80+ Night Goblins, 40 Black orcs, 10 Spider riders, a couple Spear Chukkas and Wolf Chariots, Doom Diver...perhaps even a Giant. We'll see how the last part shakes out, but that's the gist of it. We're looking at 130-160 models, counting crew and riders and such, with 30 days(ish) to get it all done. Time to grab my towel and remember not to panic.
Anyway, after about 10 days of work I have both NG units cleaned and assembled, with one all painted up, and the other a good way through. A couple Black Orcs done as well. I have set aside specific time for cleaning/assembly, but otherwise I set down to paint and finish 10 models in a go. If I stick to it, this should only actually involve 16 painting days. Here's a quick snap of progress so far:
Basing material isn't finished being prepped yet, but basing will be done in large batches later. Model selection, limited color palette, and of course Minwax Polyshades keeps the time factor down. Gonna call these da Dirty Ladz, what with all the brown dip eveywhere. Nothing fancy to look at, but painted well enough and gives me something besides the same tired Ogres I usually run. I'll update 1-2 x a week until it's all done. Wish me luck!